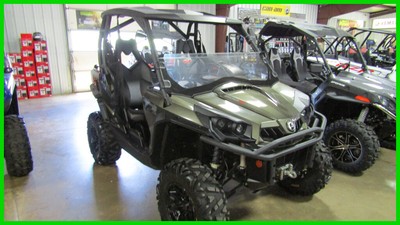 enlarge


2019 Can-Am COMMANDER XT 800R EFI Used
VIN: 3JBKKAN25KJ000289


19 Can-Amô COMMANDER XT 800R EFI Luke Stokes, Internet Sales 877-270-6563 Vehicle Information Year: 2019 Make: Can-Amô Model: COMMANDER XT 800R EFI Condition: Used WARRANTIES NEW UNITS WILL HAVE STANDARD MANUFACTURER'S WARRANTY. EXTENDED WARRANTIES ARE AVAILABLE FOR ALL NEW AND MANY USED VEHICLES. Description Paint, Plastic, Tires and Seats in great condition. Half windshield, top, driver side mirror and winch. I did find a small blemish in the tailgate. A broken piece of the air dam below the front end also. Video Link: https://youtu.be/WrjLY8pLcLc .......Mega Motorsports Key words: Motorcycle, Scooter, Street, Standard, Cruiser, Vtwin, V-Twin, Sport, bike, touring, dual-sport, dual-purpose, multi-purpose, purpose, dual, adventure, UTV, SUV, RV, utility, sxs, side by side, side x side, atv, three wheeler, trike, quad, custom, golf carts, chrome, big twin, reverse, two up, passenger, four, solo, Honda, Kawasaki, Yamaha, Suzuki, SSR, Polaris, CFMOTO, Spartan... Engine Type: 71 hp, Rotax, ...




$12,900.00




30d 9h 55m

West Plains, Missouri

powersportauthority


(1,519, 99.8%)